** UPDATE: The Faraway Nearby is now available for viewing online!! Please visit thefaraway.org **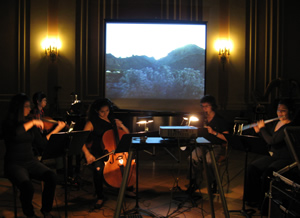 The Faraway Nearby: Georgia O'Keeffe and the New Mexico Landscape has just received a very successful premiere screening with musical performance at New England Conservatory on the Tuesday Night New Music on a Wednesday concert on November 10. The piece was performed by a group of NEC students: Lisa Husseini (flute), Christopher Mothersole (clarinet), Wesley Chu (piano), Samantha Bennett (violin), and Marza Wilks (cello).
The ensemble performed  in front of a video projection, listening to a click track on headphones. I programmed the click to match the tempo of the mock-up MIDI track which the video was edited to, so the music in the performance was timed precisely to every cut in the video.
Although we'd rehearsed the music extensively beforehand, this was actually the first time that I'd heard/seen a performance of the music together with the video.
I was excited to discover that being to able to hear and see the musicians really lent a live energy to the video. This gave it the feeling of a true multimedia performance, not just a film screening. I hope to be able to organize repeat performances of this piece with live performers.
Today we went into the studio to record the score that will appear on the online version of the video and future screenings at venues that aren't able to accomodate a live ensemble. The group knows the piece very well by now, so there was little need for rehearsal or fine-tuning in the studio, and things went very smoothly.
Now it's left to choose the best take, to mix and master the score, and to adjust the video as needed so that the music and imagery is perfectly in synch.
Over the coming months I will be approaching galleries and museums, film festivals, and music ensembles with the aim of securing further screenings and performances outside of NEC. If you know of a venue, festival or ensemble that might be interested in this piece (10 minutes duration), either as a video with recorded music or with a live ensemble, please contact me at nell@nellshawcohen.com
** UPDATE: The Faraway Nearby is now available for viewing online!! Please visit thefaraway.org **